With a simple trick, you can play EA FC 24 up to 19 hours before the official launch in your time zone. Here's what you need to get your Ultimate Team campaign started early.
EA Sports FC 24 Definitive Edition will be released on September 22, while the Standard Edition will be released a week later on September 29. We all want to get our hands on the new FIFA as soon as possible Early Access to EA FC 24.
There is a way to play the new EA game 19 hours before the official release. That's how it is.
EA FC 24: Early Access with New Zealand Cheat
EA FC 24 Definitive Edition will be released on September 22 at 12 AM. Due to the different time zones around the world, you can take advantage of this to start playing earlier.
You need to download the game before the release so that you can start playing the game as soon as it is available. Here you have more information:
Play EA FC 24 before release thanks to different time zones
EA will release the game worldwide at 12 AM. Logically, 12 AM in New Zealand is "earlier" than 12 AM in America or the United Kingdom. While the game will launch in New Zealand between September 21st and 22nd at midnight, it will arrive in the US in the early hours of September 21st. Here's a list of all possible start times with New Zealand Trick:

| | | |
| --- | --- | --- |
| Country/Region | Time zone | Time to start |
| New Zealand | NZST | 12 AM (September 22) |
| Australia | AEST | 10 o'clock |
| Japan | JST | 9 pm |
| China | CST | 8 pm |
| Central Europe | CEST | 2 in the afternoon |
| United Kingdom | BST | 1 pm |
| America | ET | 8 am |
| America | P.T. | 5 am |
With the New Zealand release, you can start playing the game before its official release. This is especially useful in FUT where every minute counts. But unfortunately there is a major drawback.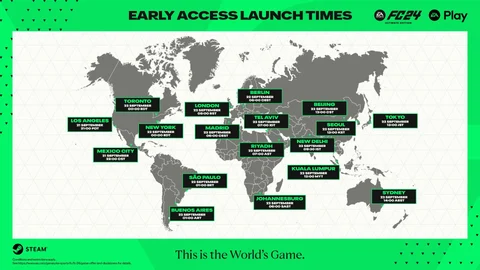 How To Use New Zealand Time Cheat For EA FC 24
This whole procedure really only makes sense for Xbox gamers. You need to change your region (and therefore your time) to New Zealand. On Microsoft's Xbox, this is easy to do. Meanwhile, PlayStation players must create a new account linked to New Zealand. Switching from this account to your standard account after launch is not an easy task.
It's not worth giving up your account for this early access. But don't fret if you're a PlayStation gamer: with You can start playing FUT soon.
EAFC can play 24 = 12 hours earlier

But only on XBOX…

We will be there pic.twitter.com/WUfmmIzH8L

— Donk (@DonkTrading) September 18, 2023
For Xbox gamers, there is one A step-by-step guide on how to play EA FC 24 on September 21, if you have purchased the definitive version. It will also work on the Standard Edition on September 28. If there is any change in this regard, we will inform you here.
go to you systems In the Xbox main menu (it's the cog in the top right corner)
Scroll down "System"
Please choose "Language and Place"
Change the location in your settings New Zealand
Restart your consoleOnly then will your settings be saved
Congratulations, you can now play EA FC 24 hours early. After the official launch in your time zone, you can return to your area in settings.
Original article author Jonathan Rosbach.

This article contains affiliate links indicated by a shopping cart icon.
"Typical beer advocate. Future teen idol. Unapologetic tv practitioner. Music trailblazer."